Main
<< Lazarus | site map | IFS Enterprise SSDs >>
Indestructible Firebird Server
Database servers from the experts
We are regularly asked to help with performance optimization, particularly in virtualized environments. Our measurements have revealed performance losses of up to 80% on virtual machines when under load. In such a situation a server with a quad core CPU and 3 Ghz just about achieves the performance of a single core CPU with 2 Ghz.
But even this level of performance cannot be relied upon under a heavy load and with an unsuitable configuration, and all those employees working on the Firebird server-based application become dissatisfied with the long reaction times. It may only take a simple antivirus scanning process running on another virtual server to halve the performance again.
To ensure optimal performance, we advise our customers to dispense with virtualization and instead use dedicated hardware for the Firebird service. Over the years we have optimized many different systems, and now – to meet customer demand – have decided to also offer optimally configured hardware.
In this way we can provide our customers with optimal database performance at a competitive price.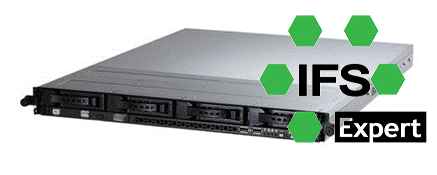 Our IFS servers are supplied pre-configured for your network and need only be connected to the Ethernet network 100 Mbit or 1 GB.
All non-vital services are deactivated and access to all functions in the file system relevant to Firebird is only possible via a pre-configured FTP server.
All TCP/IP ports with the exception of the Firebird and the FTP ports are deactivated. Automatic updates are also deactivated.
Only in exceptional cases will you need administrator access to the database server serviced by us. This way we can ensure that your server is really functioning optimally without any intentional or unintentional alterations.
The database servers are fully managed and maintained remotely by ourselves under your supervision. We make any necessary adjustments for you.
Of course you retain all rights to Firebird. You can specify Firebird users and passwords as you wish.
If required, we can also set up multiple Firebird instances.
All systems are supplied with a specially configured Windows OS. Firebird 2.5.x is already installed, further Firebird versions can be additionally installed if wished.
Sample configurations:
Server IFS X4 3.0: 4 Core CPU, 8 GB, approx. 50 GB available for databases; suitable for 1 to 10 users.
Server IFS X6 3.0: 6 Core CPU, 16 GB, approx. 100 GB available for databases; suitable for 10 to 25 users.
Server IFS X8 3.0: 8 Core CPU, 32 GB, approx. 200 GB available for databases; suitable for 25 to 75 users.
Server IFS X16 3.0: 16 Core CPU, 64 GB, approx. 400 GB available for databases; suitable for 75 to 150 users.
Prices on request to info@ibexpert.com
Our recommendations regarding the number of users refer to simultaneously-used load-intensive software products, which use Firebird as a database server. Where less demanding software is used, the servers are easily in a position to serve even double the number of users. All servers are tested with at least 1,000 concurrent Firebird connections.
Data security
For optimal reliability, we recommend the use of two identical IFS servers. We configure the systems so that an optimum reliability is assured by regularly backing up the database. If required, databases up to 10 GB can be backed up hourly, so that if an error does occur, a maximum of one hour's data is lost. We can also implement the Indestructible Firebird Server Replication Technology for an additional fee, ensuring a transaction-secure live backup of your database. Using this technology, if the main server fails, the backup server is immediately available, without any data loss whatsoever. Whichever technology you choose, we provide you with check lists, so that in the case of a server failure, you can access the backup server without any direct server intervention or software alterations.
To integrate the Firebird database into your current security concept, we can provide server-side backup files via FTP. These can then be copied, for example during night operation onto your usual backup medium.
Maintenance
For our server maintenance and monitoring services, we charge an annual flat rate of 20% of the purchase price. This includes regular contact at least every eight weeks. We dial, under your supervision, using our remote maintenance software onto the server to monitor the hardware and software parameters.
Important: we can only offer a guarantee for the functionality of the software with an active maintenance contract. To ensure system stability we recommend the deployment of at least two IFS servers configured to our specifications.
<< Lazarus | site map | IFS Enterprise SSDs >>