<< bidirectional replication | site map | Firebird press >>
Transaction Performance Processing with
IBEBenchmarks
Oldenburg, Germany, November 2005 - Objective testing of dynamic transaction processing performance is now possible using Firebird, IBExpert and PHP together with a simple DVD Store database.
With ever-tightening IT budgets, escalating productivity demands and a climate of negotiable pricing, how much new server capacity can a company actually afford? Researching street prices and making sense of apples-to-oranges price/performance statistics when comparing systems can be a daunting and time-consuming task. The absence of benchmarks for websites with dynamic content has been a major impediment to research in this area.
The idea originally comes from the German trade magazine, c't Magazin, which launched a database contest in Germany in October 2005. An English translation of this article may be found at: http://firebird.sourceforge.net/connect/ct-dbContest.html. HK-Software decided to offer this benchmark to its Firebird and InterBase® users as a method of testing performance for dynamic web applications where transaction processing is a key feature.
The DVD Store – objective performance comparison
This solution uses DVD-Store a project that the Linux® department of the Dell computer company developed in recent years as a test for its internal server laboratory. It is called DS2 and it is free. Modeled solely on a reference implementation of a typical e-commerce application, it offers more than just the usual benchmarks: in addition to providing information about the behavior of a database system in authentic conditions, it also indicates something about its application with middleware and server platforms. It enables users to appreciate the power of a solution relative to the amount of effort needed to achieve it.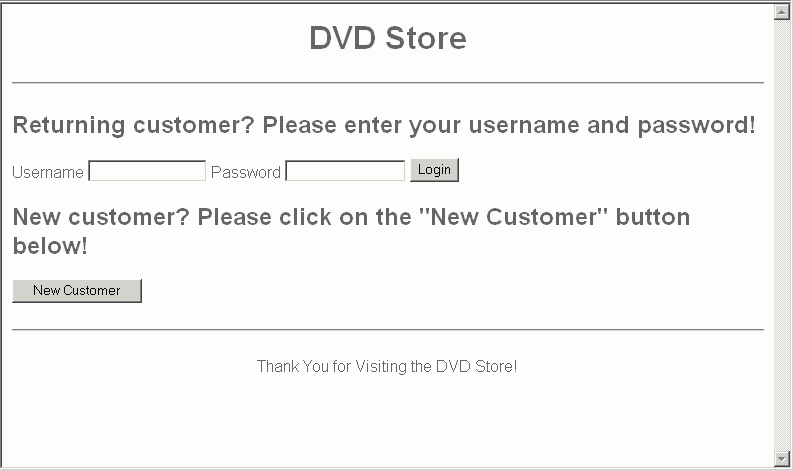 The DVD Store Version 2 (DS2) is a complete online e-commerce test application, with a backend database component, a web application layer, and driver programs. The design goals of both the database component and the midtier application were to utilize many advanced database features (transactions, stored procedures, triggers, referential integrity), at the same time ensuring ease of installation and simple construction; to define a set of functional requirements that can be run on any transaction processing system, regardless of hardware or operating system, and still guarantee end-users an apples-to-apples comparison. The DVD Store may be used to test databases or as a stress tool for any purpose. The benchmarks are modeled on actual production applications and environments rather than stand-alone computer tests, which may not evaluate key performance factors such as user interface, communications, disk I/Os, data storage, and backup and recovery.
Its intended use as a laboratory application explains the simple user interface, and the implementations do not use any session management, but carry the session parameters in hidden form fields. However the application comes with several features that make it very suitable for benchmark testing, such as the typical OLTP (On-Line Transaction Processing) features which form part of the essential requirements. DS2 comes with ready-to-use backend implementations not only for Firebird, but also for MySQL®, Oracle® and MSSQL® which offers an interesting insight into the differences and common areas of the database systems.
Requires only open-source components
HK-Software has implemented the DVD Store using popular open-source software: an Apache™ Web server, the PHP scripting languag and the Firebird relational database, a selection representative of many dynamic content websites online today.
The workload in the DVD Store benchmark is performed in a controlled Internet commerce environment that simulates the activities of a business-oriented transactional web server. It measures the performance of systems supporting users browsing, ordering, and conducting transaction-oriented business activities. The simple DS2 database structure contains merely eight tables, includes however all that is needed to run a small or medium web shop.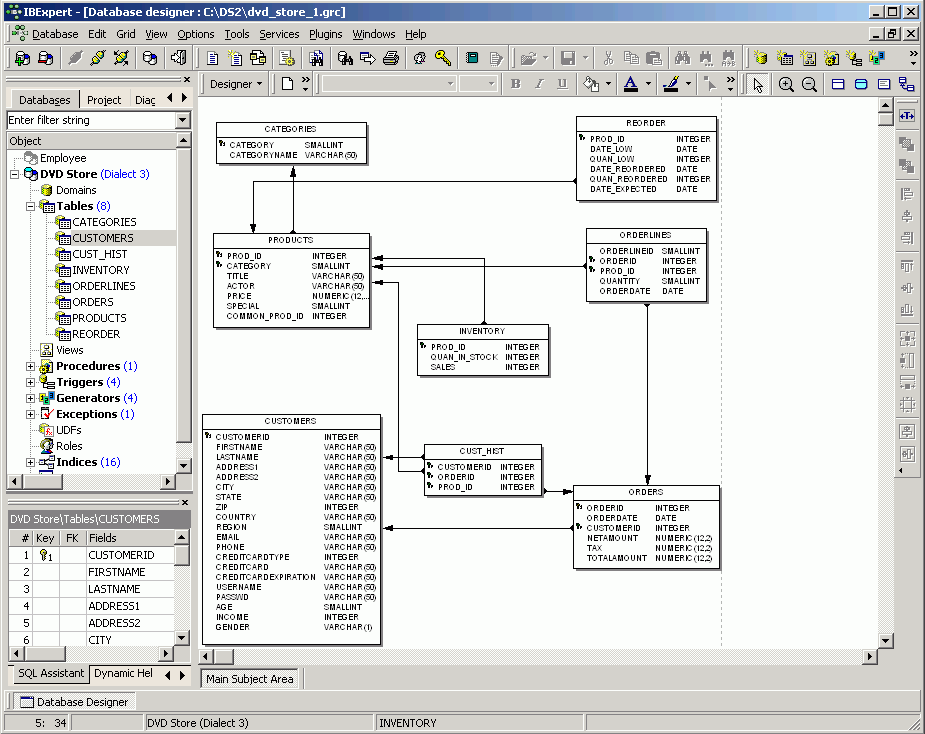 The release comprises data generation programs, shell scripts to build data for 10 MB, 1 GB and 100 GB versions of the DVD Store, database build scripts and stored procedures, and PHP web pages and a C# driver program.
Please refer to the Installation Notes for further information or refer to the online documentation here: http://ibexpert.net/ibe/index.php?n=Doc.IBEBenchmarks.
Questions can be mailed to info@ibexpert.com.
<< bidirectional replication | site map | Firebird press >>