<< IBExpert Firebird Bootcamp as corporate training | site map | IBExpert Firebird Bootcamps: What our customers say >>
What our customers have to
say about our bootcamps:
(view all testimonials here)
"Thanks for a very enlightening bootcamp in Orlando, Florida. I certainly learned a lot and look forward to putting at least some of into effect with my own systems. I also now realize that I need to spend more time with ibeblock so as to be more productive."
Bruce Eglington
"The Bootcamp was a valuable learning experience for my staff and I. We have been using Firebird and IBExpert for many years, but the presenter was extremely knowledgeable and was able to offer a fresh perspective to several issues we have. Overall, it was two days and $$ well spent."
Rick Long, Spectrum Software, Inc.
"I found the IBExpert Bootcamp in Orlando to be quite elucidating, our company has been using Firebird for years and I learned that we are not using Firebird to its full potential. We have been hesitant to move from Firebird 2.5 to 3, but the techniques I was able to observe at the class convinced me to move ahead with beginning the upgrade process with the assistance of IBExpert Developer Studio. I also learned methods that will greatly enhance our ability to support our clients across the globe. Thanks for the great experience!"
Roark Sheehan
"I found the 2-day IBExpert Bootcamp to be very helpful and informative. The built-in IBExpert benchmark tool will be very useful in evaluating our client's hardware ability to efficiently host a Firebird database. The information presented during the Bootcamp will also help us during our transition from Firebird 1.5/2.5 to Firebird 3.0. Holger and Christian are very knowledgeable in Firebird techniques and optimization strategies and I would highly recommend their services."
Kenneth Severud, Builder MT
"The Firebird Admin Bootcamp was very informative, being able to sit down to better understand the behind-the-scenes of Firebird and IBExpert is well worth the investment. I can now better utilize the software and tools to help with managing and providing recommendations to our clients."
Roger Long, Builder MT
view all testimonials
IBExpert Firebird 2.x/3 Bootcamp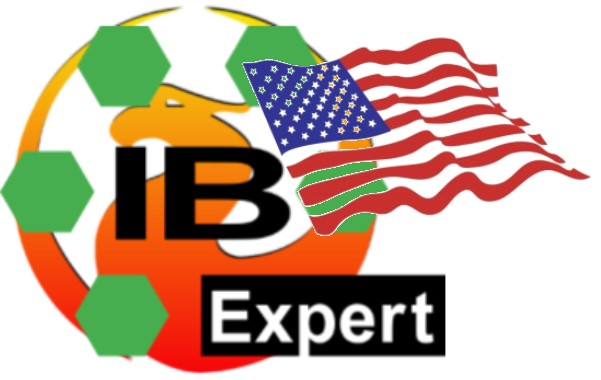 Come and join our intensive 2-day English-language IBExpert Firebird Bootcamp in Orlando, Florida.
We will condense the full contents of the IBExpert Firebird 3 Bootcamp into 2 full days packed with Firebird knowledge.
Participants will be able to bring and demonstrate real Firebird challenges and Holger Klemt will solve the problems. He will teach replication techniques that can be applied right away after the Bootcamp. Bootcamp participants also will receive the original Bootcamp video recordings covering all discussed topics with details.
All participants will have the chance to purchase all IBExpert software products at special Bootcamp rates!
Duration:
2 days, 9:00 am until 6:00 pm
Fees:
Participation for both days costs just $990.
You can reserve your place by mail to contact@ibexpert.com.
Location:
400 Woodbridge Rd
Longwood, FL 32779
Accommodation: There are a number hotels in the immediate vicinity, which you can view online here. Please book yourself!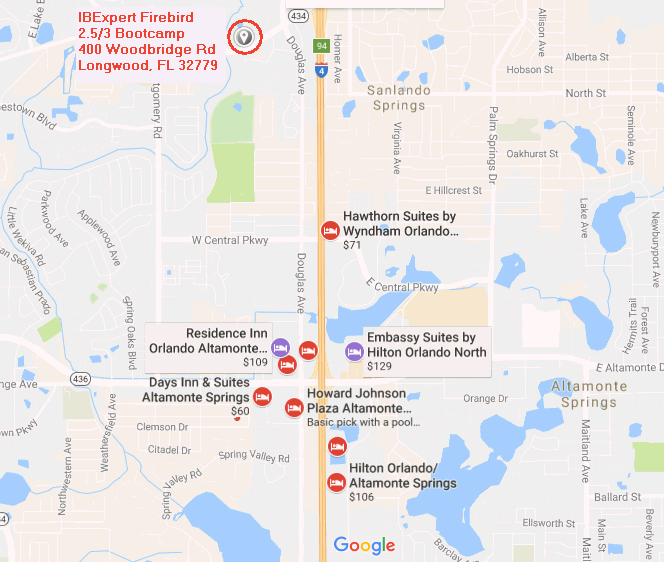 .

Please refer to our IBExpert Contract Terms for the Provision of Consultancy and other Professional Services (General Terms and Conditions Services) and Terms and conditions.
You can book your place by mail to contact@ibexpert.com.
---
Terms and conditions
All fees are subject to the VAT/sales tax applicable in the country where it is taking place. This also applies to international participants. The participation fee is payable immediately upon receipt of invoice. Participation is possible only if payment has been received in full before the workshop begins. Workshop participation can be canceled up until 3 weeks (21 days) before the Bootcamp begins.
In case of cancellation, the organizer will levy a cancellation fee of $ 250 per person excluding VAT. After this date, it is no longer possible to cancel and the workshop fee must be paid in full.
The organizer reserves the right to make changes to the training program for organisational or other reasons. Payments will be refunded if the workshop has to be canceled by the organizer. Further legal claims against the organizers are explicitly excluded.
Please refer to our IBExpert Standard Business Terms, in particular the IBExpert Contract Terms for the Provision of Consultancy and other Professional Services (General Terms and Conditions Services).
The fees apply to online bookings in our online shop and immediate payment by bank transfer or using PayPal or Visa/Mastercard. The prices in our online shop are quoted excluding sales tax! The number of places is limited. Should you have any further questions please contact sales@ibexpert.biz or call 407-288-8070.

<< IBExpert Firebird Bootcamp as corporate training | Sitemap | IBExpert Firebird Bootcamps: What our customers say >>